Ever wondered what it must be like to go to a 'con where you get to meet with publishers and comic book retailers?  Well, you just might get a taste of that at this year's Baltimore Comic-Con, because the Diamond Retailer Summit will be hitting Baltimore Convention Center the week before BCC!  I'm hoping that a good amount of the folks that come to Baltimore for the Summit will stay for the Comic-Con…right?  Right?  Right!  *smiles hopefully in not a weird way at all*
Want to know more?  Read on for the full press release!
Diamond Announces Baltimore as Site for 2015 Retailer Summit
BALTIMORE, MARYLAND – November 19, 2014
 – Diamond Comic Distributors has announced that its 2015 Retailer Summit for comic book specialty retailers will take place
September 23
–
25, 2015
in Baltimore, MD.
"We're excited to bring the Summit back to Diamond's home turf of Charm City," said Roger Fletcher, Diamond's VP-Sales & Marketing. "We had a great event in Las Vegas last year and we hope to exceed that in terms of growth and retailer satisfaction with the 2015 Summit."
Diamond also announced that it will partner with Baltimore Comic-Con, which will be held right after the Summit from September 25-27, to share marketing and strategic initiatives for the combined events. Baltimore Comic-Con's Exhibit Hall will serve as the Summit's Exhibit Hall during special "Retailer Only" hours.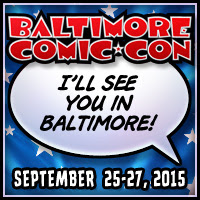 "Our 15th annual show in 2014 was our biggest show to date," said Marc Nathan, promoter of the Baltimore Comic-Con. "It's only going to get bigger and better. Baltimore Comic-Con, coupled with Diamond's Retailer Summit, should make for one of the best regional comic-con shows ever held."
Now in its 13th year, Diamond's Retailer Summit is the leading annual event for comic book specialty retailers to meet with publishers and vendors, and come together with fellow retailers to discuss the industry and their businesses. Top publishers such as Dark Horse Comics, DC Entertainment, IDW Publishing, Image Comics, and Marvel Comics come and share exciting new projects, while retailers get to network and learn about new business practices to help them succeed and thrive in today's retailing environment.
Additional details and registration for the industry's annual retailer event will be announced in early 2015. Publishers and vendors who would like to sponsor or exhibit at the Baltimore Comic-Con should contact Chris McClelland (
registrar@baltimorecomiccon.com
) now for additional information.
pages.
Contact Information
Please use the following e-mail addresses to contact the Baltimore Comic-Con:
press@baltimorecomiccon.com– for any general press inquiries or to be added to our PR distribution
registrar@baltimorecomiccon.com– for exhibitor, publisher, and Artist Alley applications
harveys@baltimorecomiccon.com– for the Harvey Awards ceremony and banquet
general@baltimorecomiccon.com– for general Baltimore Comic-Con inquiries
About The Baltimore Comic-Con
The Baltimore Comic-Con is celebrating its 16th year of bringing the comic book industry to the Baltimore and Washington D.C. area. For more information, please visit www.baltimorecomiccon.com.
About The Harvey Awards
The Harvey Awards are one of the comic book industry's oldest and most respected awards. With a history of over 20 years, the last 10 in conjunction with the Baltimore Comic-Con, the Harveys recognize outstanding achievements in over 20 categories. They are the only industry awards nominated and selected by the full body of comic book professionals. For more information, please visit www.harveyawards.org.